Ghada Amer had no idea she would fall in love with ceramics. When she began training in ceramics in August 2013, it was with the specific goal of learning and experimenting in order to create her own prototypes and thus control the technical realization of her metal (and later bronze) sculptures. She was not interested in the medium of ceramics per se, but she knew that it was the door that would allow her to push forward her sculpture practice. In other words, ceramics was simply going to be a medium to attain other ends.
It was at the Greenwich House Pottery in New York City and under the supervision of its director, Adam Welch, that Ghada Amer began her training in ceramics. She spent two years in residency there (August 2013 to February 2015) and an additional six months one year later (2016-2017).
The period spent at the Greenwich House Pottery was extremely rich and immensely productive both for the development of her sculpture practice and for expanding her art in general.
For Ghada Amer, this was a time of boundless energy and of liberation from the constraints of the history of art (and the history of painting especially) in which she had been immersed for so long. Her lack of familiarity with the medium of ceramics turned out to be an asset. It gave her creative license to experiment and produce novel techniques.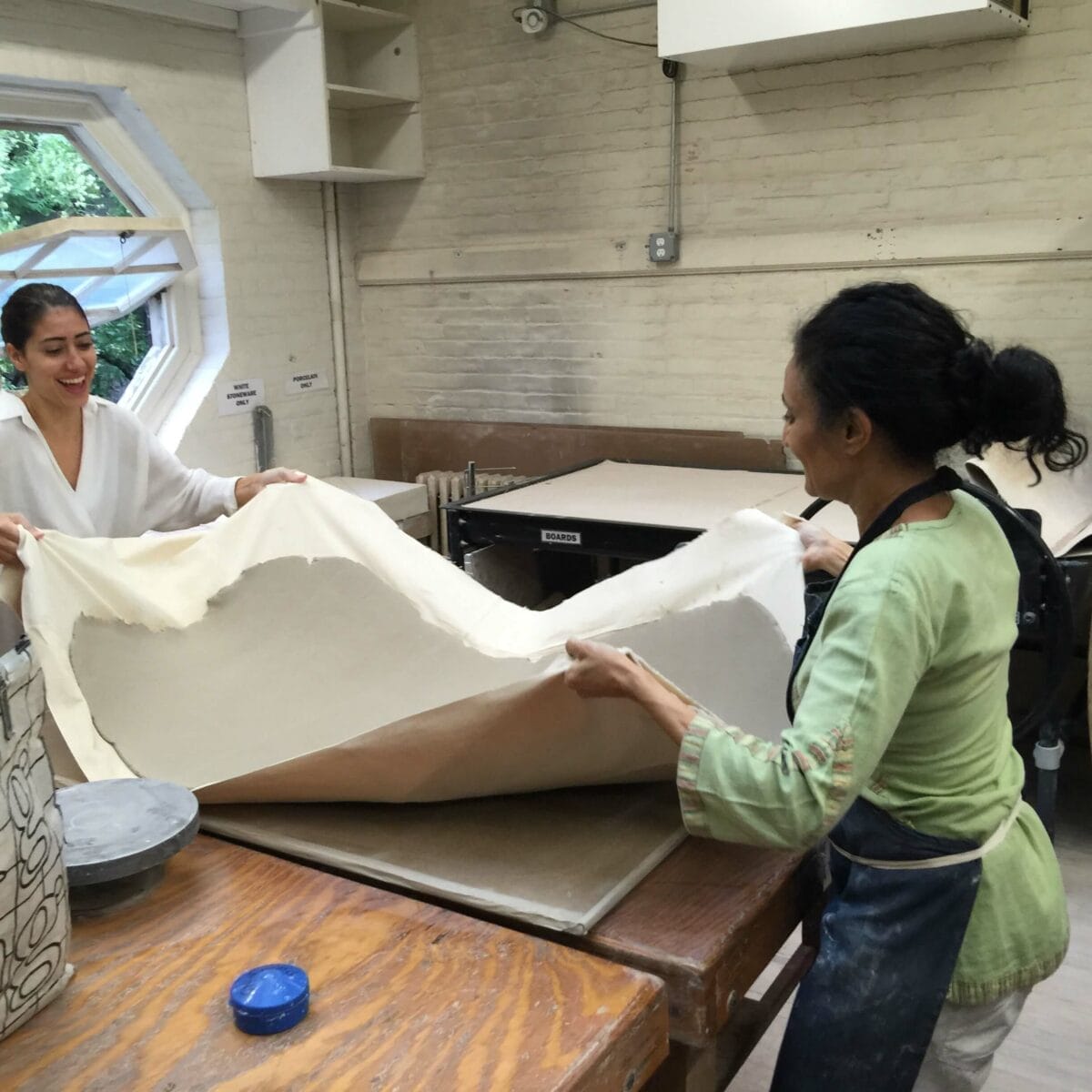 The unexpected sense of freedom that the artist experienced while learning ceramics had a tremendous impact not only on her sculptures (her initial main goal) but also on her painting practice (evident in her The Women I Know" series in particular). Once again, Ghada Amer was going to be able to paint outside the field of capital "P" painting.
Painting clay works turned out to be more a more complicated process than envisioned at first. Ghada Amer quickly realized that she had to avoid using glaze because she could not see the colors as she applied them. She often commented:
To accommodate her, Adam Welch introduced her to (1) the "colored slip" which is a wash of tinted clay that bonds with the substrate and to (2) "porcelain inlay" which is a system of first mixing pigment with porcelain clay, thus producing a sort of painted clay that could be rolled out, shaped, and applied to the piece as either an overlaid or an inlaid sculptural element.
Armed with these new skills that allowed her to apply painting to a new medium, and mostly unconcerned with the accepted conventions of ceramics, Ghada Amer produced a significant body of painted ceramic artworks not only during her residencies at the Greenwich House Pottery in New York City, but also during her multiple residencies at the Ceramica Suro Workshop in Guadalajara, Mexico in 2018 and 2019.
Ghada's ceramics output can be divided into three categories, all of which produced simultaneously between 2014 and 2019.